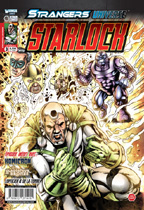 STRANGERS UNIVERSE #3: STARLOCK
Scenario: Jean-Marc Lofficier
Dessins: Mariano De La Torre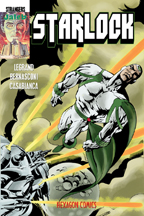 TOME 2 - ISBN 978-1-935558-58-3
544 pages
cover: Manuel Martin Peniche
preface: Mike Baron
contents: STARLOCK par Claude J. Legrand, J.-M. Lofficier & Luciano Bernasconi, Manuel De La Torre (from YUMA No. 10); FRANK UNIVERSAL par J.-M. Lofficier & J.-J. Dzialowski; JALEB (eps. 1-7) par Claude J. Legrand & Annibale Casabianca.
TO BUY THIS BOOK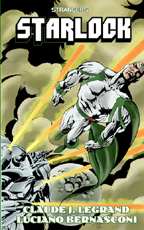 STRANGERS: STARLOCK (Volume 3)
ISBN # 1-934543-65-9 / 978-1-934543-65-8
5 x 8", 256 pages, August 2009
Contents:
- Foreword by Mike Baron
- Introduction by Jean-Marc Lofficier
- Classic Starlock #1-#7 by Claude Legrand & Luciano Bernasconi
- The Return of Starlock by Jean-Marc Lofficier & Luciano Bernasconi
- The Origins of Starlock by Jean-Marc Lofficier & Mariano De La Torre
- Bonus pages by Fernando Pasarin
Story: A super-powered alien stranded on Earth shares bodies with an astronaut.

TO BUY THIS BOOK
---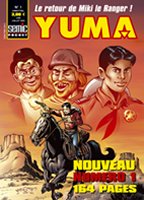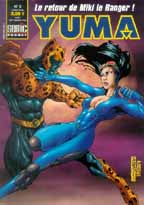 "Les Origines de Starlock!" (The Origins of Starlock)
In Yuma Nos. 1-2 (SEMIC, Jun-Aug. 2002)
Story by Lofficier; Art by Luciano Bernasconi (Part 1) and Ange Sierra De La Mar (Part 2)
This new 20-page story revisits what happened to the alien hero Starlock when he first appeared on Earth (Part 1), then goes on to reveal what happened between the end of Starlock's original series and his return in Homicron (Part 2). Starlock returned in Strangers.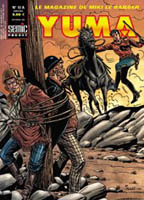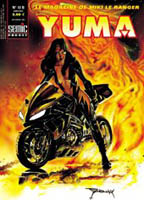 "Le Pont sur les Étoiles" (The Starbridge)
In Yuma No. 10 (SEMIC, Dec. 2003)
Story by Lofficier; Art by Mariano De La Torre
This new 22-page story reveals what happened to Starlock before arrived on Earth

both reprinted in: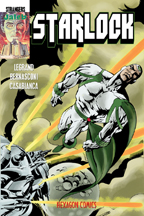 STRANGERS TOME 2 - ISBN 978-1-935558-58-3
544 pages
cover: Manuel Martin Peniche
preface: Mike Baron
contents: STARLOCK par Claude J. Legrand, J.-M. Lofficier & Luciano Bernasconi, Manuel De La Torre (from YUMA No. 10); FRANK UNIVERSAL par J.-M. Lofficier & J.-J. Dzialowski; JALEB (eps. 1-7) par Claude J. Legrand & Annibale Casabianca.
TO BUY THIS BOOK