Article Page 1

Article Page 2

Article Page 3

Article Page 4

Article Page 5

Bibliography

Cover Gallery 1

Cover Gallery 2

Cover Gallery 3

Cover Gallery 4

Cover Gallery 5

Cover Gallery 6

Cover Gallery 7

German covers by Regino Bernad

Le Saint Detective Magazine 1

Le Saint Detective Magazine 2

Le Saint Detective Magazine 3

Le Saint Detective Magazine 4

About Nero Wolfe & The Toff

About artist
Regino Bernad

The Saint on French Radio

French-English
Text Comparisons

De Saint (The Dutch Saint)


© 2007 Jean-Marc Lofficier. This article first appeared in a slightly different form in the Summer '94 issue of The Epistle.

Thanks to Ian Dickerson for Research Assist.
Thanks to Dan Bodenheimer, Marcel Bernadac, and Patrick Verdant for additional cover scans.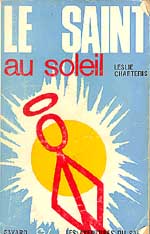 5. The end (1964-1966)

No. 76 in the series, Again the Saint!, released in June 1964, was the third, and last, original collection put together by Fayard from the remaining untranslated short stories from The Brightest Buccaneer which had not been previously used in The Saint Has Fun (No. 24) and The Trumps of the Saint (No. 69).

In October 1964, Fayard released a translation of Trust the Saint (No. 77) and, in January 1966, after skipping an entire year, an heretofore unpecedented event, The Saint in the Sun, No. 78 and last in the series. As I said above, the reasons for the cancellation of the series remain somewhat mysterious. Certainly, the year 1968 was, as everyone knows, a year of turmoil and changes.

Paperbacks became slicker, with more lurid covers on the outside and more sexy scenes inside. It is possible that, compared to some of its more daring competition, the Saint novels may just have felt too outdated.

Also, 1968 heralded a period of economic difficulties, especially for smaller companies. A very likely possibility is that Fayard was no longer as profitable as it had once been. It may have been purchased by a larger corporation. There may have been changes in management. Jenny Bradley's 1969 letter indicates that, aside from Madeleine Michel-Tyl, there was Mr. Didelot and another, unidentified editor, which all had to be paid from the same royalties -- in other words, the series had become "top heavy". All sorts of factors that might have doomed the Saint series.

5b. Uncollected stories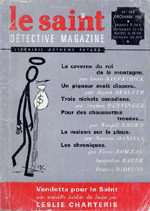 Vendetta for the Saint (by Harry Harrison and Leslie Charteris), which had first appeared in Le Saint Detective Magazine No. 130 (December 1965) and five subsequent issues, was again serialized in 1967 and 1968 in Télé 7 Jours, the largest French television programme magazine (à la Radio Times). Considering the popularity of the television series, it would have been a simple matter for Fayard, or even another publisher, to put it out in book form. Yet, it was not done. Another letter from Jenny Bradley revealed that the sale of the subsidiary rights by Fayard to Télé 7 Jours was mismanaged by Fayard.

For the sake of exhaustivity let us also note here that four original short stories initially published in Le Saint Detective Magazine were never collected in the Fayard books:
- Le Noble Sportsman (The Noble Sportsman) in Le Saint Detective Magazine No. 24 (Febr. 1957);
- Le Saint et les Prospecteurs (The Saint and the Prospectors) in Le Saint Detective Magazine No. 112 (June 1964) was adapted by M. Michel-Tyl from a NY Herald Tribune strip (September 13th- November 6th, 1954). In it, Bruce Taylor, a Hollywood writer, buys the rights to adapt the tall tales stories that an old prospector/gold miner Old Man Gibbs likes to tell.
- Amours, Gadgets et Colonel (Love, Gadgets and Colonel) (The Gadget Lovers) from Le Saint Detective Magazine No. 151-152 (Sept.-Oct. 1967), the adaptation by Fleming Lee of a John Kruse teleplay, translated by M. Michel-Tyl, later included in The Saint Returns.
- Un Puissant Artiste (The Power Artist), written with Fleming Lee, in Le Saint Detective Magazine No. 153-154 (Nov.-Dec 1967) was, however, later included in the 1980 Livre de Poche volume Le Saint à la Télévision (1980) (The Saint on TV) but in a different translation.

Finally, as we pointed out before, one original Leslie charteris story, The Uncritical Publisher (from The Saint Intervenes) was not translated at all, although there is an orginal 1945 French-Canadian translation of that collection entitled Le Saint intervient (published by Editions Modernes Ltée.) and it is likely that that story is included there, but translated by Madeleine Didayer.

Within the space of a couple of years, certainly by 1970, even the colorful Fayard books had vanished from the newstands. It was as if the Saint had died. Gone. Vanished.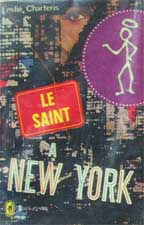 6. Rebirth?

Soon after the publication of the last Fayard Saint book, the popular reprint collection Le Livre de Poche began reissuing virtually all of the Saint novels, starting in 1967 with The Saint in New York (No. 1) and ending up with The Saint Plays Nursemaid (No. 44) in 1978.

Le Livre de Poche also issued four Charteris "collaborations": The Saint and the Hapsburg Necklace by Christopher Short in 1977, The Saint and the Forgers (Catch the Saint) by Fleming Lee & Norman Worker and The Saint on TV by Fleming Lee & John Kruse in 1980, and finally, The Saint Gets Angry (The Saint in Trouble) by Graham Weaver, John Kruse & Terence Feely in 1981.

Interestingly, Jenny Bradley had stated in a 1973 letter that she had been preparing contracts for Fayard editions of The Saint and the Fiction Makers by Fleming Lee and John Kruse, The Saint Abroad by Fleming Lee and Michael Pertwee and The Saint and the People Importers by Fleming Lee and Leslie Charteris. However, these books were never published. Undoubtedly, the Fall of the House of Fayard was responsible.

In any event, sometime in the mid-1980s, the Livre de Poche editions, too, were allowed to become out of print.

For the record, the following other Saint novels were not translated either:
- The Saint in Pursuit (a Fleming Lee/Charteris collaboration), in its original form;
- The Saint Returns (by Fleming Lee, D. R. Motton, Leigh Vance and John Kruse) (except for one story, The Gadget Lovers, published in a translation by M. Michel-Tyl in Le Saint Detective Magazine Nos. 151-152);
- Send for the Saint (by Peter Bloxsom, John Kruse and Donald James);
- The Saint and the Templar Treasure (by Graham Weaver and Donne Avenell);
- Count on the Saint (by Graham Weaver and Donne Avenell); and
- Salvage for the Saint (by Peter Bloxsom and John Kruse).

In 1989, 10/18, an upscale "classic mysteries" paperback series put out by editors Christian Bourgois and Jean-Claude Zylberstein at the Presses de la Cité, reprinted three Saint books. They were: The Saint in New York (No. 1), The Saint versus Scotland Yard (No. 7) and Thieves' Picnic (No. 10). According to Mr. Zylberstein, these were not very successful, and no further reprints are planned.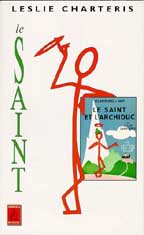 In the mid-1990s, Belgian publisher Claude Lefrancq began publishing a new series of Saint reprints in two different imprints: one was omnibus volumes featuring several novels; the other was straightforward reprint of the Fayard volumes, featuring the original cover art, framed by a giant Saint signature. They reprinted Nos. 2, 3, 72 (The Last Hero), 6 and 11 of the Fayard series.

Lefrancq went out of business in 1998 and this reprint series, too, was eventually terminated.

In 1997/98, another French publisher, Librio, reprinted stand-alone Charteris short stories in slim, inexpensive volumes: LE SAINT: EN PETITES COUPURES; LE SAINT: IMPOT SUR LE CRIME; LE SAINT: PAR ICI LA MONNAIE!; LE SAINT ENTRE EN SCENE and UNE AVENTURE DU SAINT: LE POLICIER FANTÔME.

A French translation of the novelization of the Val Kilmer movie by Burl Barer was published in 1999 to coincide with the release of the movie.


7. Conclusion

I began this article by stating that there was remarkably little information about the French Saint series, even in France, and whatever information had trickled back to England or America had conveyed the impression that these books were not good.

Even the most comprehensive Saint bibliographies, which list novelisations of television stories over which Charteris had little control, or Burl Barer's wonderful posthumous pastiche, ignore the forty-four French Saint novels, all credited to Charteris.

Yet, two of these include direct translations of the legendary Charteris/Fleming Lee collaborations (Nos. 54 & 64).

Nine were based on radio scripts over which Charteris also had little control -- these are the ones which, after being translated back into English, conveyed a negative impression. Yet, these are hardly better or worse than the Bloxsom or Kruse novelisations, which still appear in Charteris bibliographies.

Finally, a whopping 33 novels were based on Charteris plots, incorporated (in translation) Charteris dialogue drawn from the Charteris-written New York Herald-Tribune strip. These cannot but be considered full-blown Charteris collaborations.

It is worth noting that the French Saint books were successfully translated in Dutch for many years, and that French Saint cover artist Regino Bernad went on to design the covers of an early German edition as well, two more tributes to the lasting influence of the Fayard edition in Continental Europe.

How long will these books continue to be ignored because bibliographers don't care, or only read English?

I may not have answered all the questions which remain, but if nothing else, I hope to have contributed to dispel this bit of "English Spoken Only" prejudice and restore into the Charteris canon this enormous and heretofore uncovered contribution.

Certainly, from both a quantitative and qualitative standpoint, Edmond and especially Madeleine Michel-Tyl's collaborative work deserves much recognition among Saint fans.